Back to Events
Event Details
About the Tournament
This charity golf tournament is hosted by the Apartment Association of Greater Augusta to benefit breast cancer research. Since 2010, the AAGA has raised $108,452.16 for breast cancer research at the Georgia Cancer Center. Our 2018 tournament raised $26,251.53. We could not have done so without the support of our many sponsors, teams, and volunteers!
The tournament is open to both AAGA members and nonmembers. We hope you will participate in the 2019 tournament to help us raise even more for this important cause.
Contests include Longest Drive, Closest to the Pin, Putting Contest, and more!
AAGA Members can compete to win the Owner's Cup Trophy. This perpetual trophy is awarded to the best team with 2 or more Property Management members.
About the Apartment Association of Greater Augusta
The Apartment Association of Greater Augusta (AAGA) is a 501(c)6 non-profit trade association for the multifamily industry. Founded in 1973, we are an association of apartment communities, apartment owners, managers, suppliers, and professionals dedicated to promoting and advancing the needs of the apartment industry. Our mission is to promote the growth and success of the multifamily housing industry through education, networking, and community involvement.
Read the Terms & Conditions for important information about this event,
Participants & Sponsors are encouraged to fill this out & return to office@aagaonline.com prior to the tournament to expedite your check-in on the day of the tournament!
Deductibility Disclaimer
The Apartment Association of Greater Augusta (AAGA) is a 501(c)6 non-profit trade association dedicated to the professional advancement of the multifamily housing industry in the CSRA. Please note that since AAGA is a 501(c)6 trade organization, payments made to AAGA may be deducted as a business expense, but
not as a charitable donation
. Consult your tax professional. Questions? Contact the AAGA at 706-814-6537.
151 Other Registered Attendees
Agenda
October 18
8:00 AM - 9:00 AM

Registration, Breakfast, & Announcements

9:00 AM - 9:00 AM

Shotgun Start

3:00 PM - 4:00 PM

Auction, Prizes, Awards
For More Information: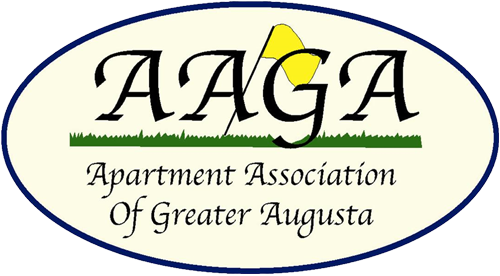 P.O. Box 211325
Augusta, Georgia 30917
706.814.6537
2019 Sponsors:
Premier Sponsors
ATC Development Corporation
South State Bank
Walton Communities
Gold Sponsors:
Anthony Thuan State Farm
Keen Signs & Graphics
Kirkland's Flooring
The Sherwin-Williams Company
Swift Bunny
The Carpet Mart
Tico Roofing, Inc
The Cart Barn
U.S. Lawns
Walden Glen Apartments
Beverage Cart Sponsors:
Furniture Rentals, Inc
Loebsack & Brownlee, PLLC
Orion Waste Solutions
Golf Gun Sponsors:
Duraclean
Whiskey Bar Kitchen
Transportation Solutions of Augusta, LLC
Putting Contest Sponsor: Meridian Waste
Breakfast Sponsor: PPG Paints
Lunch Sponsor: Armor Pest Control
Coozie Sponsors:
BlueLine Pressure Washing
Clean Image Carpet Care
Duraclean
PooPrints of South Carolina
Rowland-Ford Funeral Home
Zapata's Electric
Tee Box Sponsors:
Anthony Thuan State Farm
Apartments.com
ATC Development
Augusta Bio One
Bill Beazley Homes
BZ Electric
E. Gary Beddingfield Jr., P.C.
Ellefson Transportation Group
Fox Appliance Parts
HD Supply
Ivey Residential
Keen Signs & Graphics
Kirkland's Flooring
Oconee Capital Investments, LLC
PooPrints South Carolina
Premier Networx 'The Augusta IT Guys'
Shepard, Plunkett, & Hamilton, LLP
South State Bank
SVN/KD Lanclos & Associates
Swift Bunny
Ten35Alexander Apartments
The Carpet Mart
The Cart Barn
The Sherwin-Williams Company
Tico Roofing
US Lawns
Walden Glen Apartment Homes
Walton Communities
Zillow Group
(This will open a new page in your browser & redirect to our Flickr Album)
I am not a member of AAGA, can I participate?
Yes! We welcome anyone in the community to participate and give back to this great cause.
I'm not a member - can I get an invoice?
Nonmembers can either register online & pay by credit card, or you can mail a check with the
registration form
to our mailing address. If you need an invoice prior to sending payment, you must fill out the PDF form and email it to office@aagaonline.com first. We cannot send an invoice without a completed registration form. We apologize for any inconvenience this may cause.
What type of format is the tournament?
It's a "Captain's Choice /Best Ball" format.
I can't participate, but I want to give back to the cause. What can I do?
We appreciate your support! We can accept
monetary donations
or donations of prizes and/or auction items. Contact us to arrange your donation!
I'm a member and am having trouble logging in to register. Can you assist?
Sure! First, have you created your account? Individual employees have their own profile account under their company's membership.
If you've already created an account, but you're not sure which email address is tied to your account, contact the AAGA office and we can assist.